Xinhai wear-resistant rubber

——Unique provider of liquid-phase process rubber in China

"Relying on the excellent physical performances (resistance to wear, acid and alkali, tear, etc.), Xinhai wet wear-resistant natural rubber fills the domestic industry blank and breaks up the technology and products monopoly of foreign companies, which has great significance for promoting technology progress of China rubber industry."

------From "science and technology achievement appraisal of key technology and industrialization of wear-resistant natural rubber liquid-phase processing project" approved by Science and Technology Department of Shandong province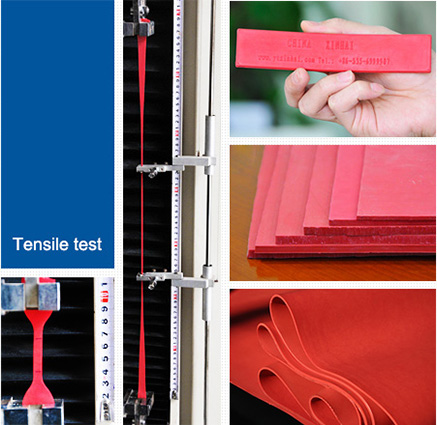 Test report of Xinhai XH35 Rubber

Performance
Test standard
Unit
Measured index
Hardness
ISO7619-1:2004
Shore A
36
Tensile strength
ISO37:2005
Mpa
24
Elongation at break
ISO37:2005
%
760
Residual tensile deformation
ISO37:2005
%
4
Tear Strength
ISO34-1:2004
N/mm
68
Resilience
ISO4662:1986
%
80
Abrasion loss of relative volume
ISO4649:2002
mm3
24
Density
ISO2781:2007
g/cm3
0.9529
Application

——greatly prolongs the service life of equipment
Xinhai wear-resistant rubber prolongs the service life of your beneficiation equipment by 1.5 times.
Innovative processing technology forged this excellent abrasion performance and its wear-resistant index has reached 128%.
With nature rubber content of 95%,good elasticity, stretch resistant and tear resistant.
Various grade of hardness, meet the different requirements of equipment.
Low specific gravity, convenient for storage, transportation and installation.
Xinhai EPC service

——the leader of China mineral processing EPC service

Yantai Xinhai mining group is committed to EPC service, ore beneficiation equipment manufacture, wear-resistant rubber production, technology R&D and mining investment. In China, Xinhai firstly came up with the concept---mine EPC service and put it into practice. Up to now, Xinhai has successfully completed over 500 EPC projects all over the world.[Check the details]

Mine sites
Zimbabwe desorption and electrolysis project

Sudan Gold Gravity Separation Project

Armenia Cu-Pb-Zn Project

Iran Pb-Zn Mine Project

Chile Copper Mine Project
Exhibition activities

——Footprints all over the world
Received by the president of Tanzania

The president of Tanzania and Big boss of Xinhai Group

Sales Director Mr. Lee with his customers

Contract client in the exhibition

China Mining 2010

China Mining 2010

Mining Technology Conference

China Mining 2011

Chile Exhibition (2013 June)

Zambia Exhibition (2013 June)

Indonesia Exhibition (2013 September)

Mongolia Exhibition 2013